Designers » N-Q » NadiaZ Oriental Woody « Groups
https://www.fragrantica.com/perfume/NadiaZ/Metamorphose-Lilas-Night-39893.html
Metamorphose Lilas Night NadiaZ for women and men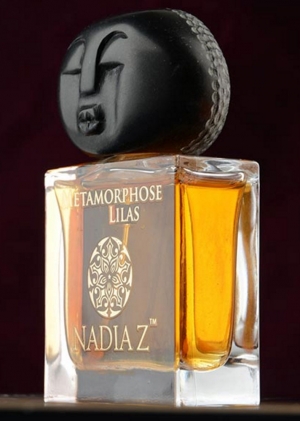 I have it: 1 I want it: 10
The incredibly inspiring and delicate scent of blooming Lilac flowers imperceptibly soften the soul, married with penetrating scents of Frankincense and Agarwood. The smokey wintery undertone of Black Tea is complemented by the subtle caramel and powdery emanations of Vanilla, Tonka Bean, Sandalwood, Blue Cypress and Indigenous Amazonian Oils.
Metamorphose Lilas Night by Nadia Z is a Oriental Floral fragrance for women and men. The nose behind this fragrance is Nadia Zuodar. The fragrance features lilac, olibanum, agarwood (oud), black tea, caramel, vanilla, tonka bean, sandalwood and cypress.
Perfume rating: 5.00 out of 5 with 4 votes.
Fragrance Notes









Main Notes According to Your Votes

2

2

2

2

1
1

1
Metamorphose Lilas Night Fragrance Reviews
tibetano
 Whispers under the bed sheets. Soft caresses that remind your own humanity. Intimate, near, perfect to share.
Metamorphose Lilas Night is a fragrance that's surprisingly romantic, exotic, and a perfect merry of two culture. The beautiful lilac captures the culture of Japan, while frankincense takes you on an adventure to Egypt, honoring the origin of perfumery.
It starts off with an almost metallically bright olibanum mix with lilac. It's oddly pleasing to smell, because normally anything metallic really puts me off, however it doesn't stay for too long so if you're not into metallic you won't have to worry.
As it develops, the sweeter layer starts to pops out and the texture changes noticeably. The scent is now less bright and more rich and syrupy, like the texture of caramel, it's thick and deliciously sweet. The sweetness is a well-rounded mixture of tonka bean, vanilla, and caramel. There's a lot more going on than the sweet though, there are also some woody notes and some hints of the frankincense still present from the opening. A strange composition that oddly work together very well, and it makes me wonder what was the inspiration behind these mix and match of notes. It's artistic and still practical to wear. Also undeniably unique even amongst the highest quality niche fragrances on the market.
This fragrance lends itself to a romantic setting, it's very alluring and sensual, warm, delicious, and inviting. Great for special nights with your significant other or an evening meal at the finest restaurant.
The performance is incredible, lasting at least 48 hours on clothes and over 10 hours on skin, ensuring that you would never have to reapply. Projection is also very generous. It definitely gets notice. Overall, performance is amazing.
In conclusion, I'd say like what I'll say for all the reviews for this house is that, this is at the very least a must try house for any fragrance enthusiast, especially if you're someone who loves to discovery hidden gems of the world, this house will not only surprise you but introduce you to a whole new perspective of perfumery.
Nov
09
2016
Longevity
drag slider to vote
User votes

| | | |
| --- | --- | --- |
| poor | 0 | |
| weak | 0 | |
| moderate | 1 | |
| long lasting | 2 | |
| very long lasting | 0 | |
Sillage
drag slider to vote
User votes
soft
1
moderate
1
heavy
1
enormous
1