Designers » N-Q » NadiaZ Citrus Aromatic « Groups
https://www.fragrantica.com/perfume/NadiaZ/Mar-de-Cadiz-39895.html
Mar de Cadiz NadiaZ for women and men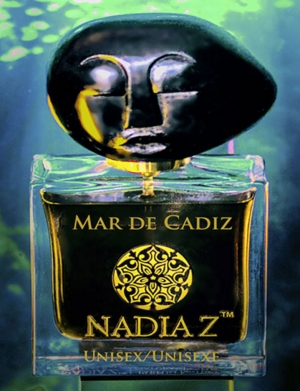 I have it: 1 I want it: 5
A mainly green aquatic and sporty composition constructed around remarkable sweet green crisp notes of Cucumber, Eggplant, Green Tea, Mate and Indigenous Oils, with a hint of water elements – from Seaweed and Kewra (Pandanus). It is vivified and sweetened by citrus aromas including the majestic Japanese Yuzu, Bergamot, Iranian Black Lemons, and Grapefruit, as well as flowers, such as the seductive Narcissus and Indian Cress. Its delicately powdery undertones emerge from precious flowers such as Lotus and Iris.
Mar de Cadiz by Nadia Z is a Citrus Aromatic fragrance for women and men. The nose behind this fragrance is Nadia Zuodar. The fragrance features cucumber, green tea, mate, seaweed, pandanus, yuzu, bergamot, lemon, grapefruit, narcissus, , lotus and iris.
Perfume rating: 4.00 out of 5 with 2 votes.
Fragrance Notes












Main Notes According to Your Votes

3

3

3

3
1
Longevity
drag slider to vote
User votes

| | | |
| --- | --- | --- |
| poor | 0 | |
| weak | 0 | |
| moderate | 0 | |
| long lasting | 1 | |
| very long lasting | 0 | |
Sillage
drag slider to vote
User votes

| | | |
| --- | --- | --- |
| soft | 1 | |
| moderate | 0 | |
| heavy | 0 | |
| enormous | 0 | |