Designers » N-Q » NadiaZ Floral Aquatic « Groups
https://www.fragrantica.com/perfume/NadiaZ/Japanese-Spring-39898.html
Japanese Spring NadiaZ for women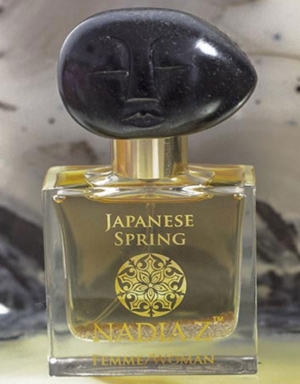 Total people voted: 2
I have it: 2 I want it: 5
 main accords
A well kept secret encompassing which can be described by the scent of rain. It draws its original and ethereal nature from Namibian Omumbingu Resin, the narcotic emanations of Hyacinth sweetened by a romantic and feminine touch of Gardenia rendered even more vibrant by the pheromonal Hyraceum hint.
Japanese Spring by Nadia Z is a Floral Aquatic fragrance for women. The nose behind this fragrance is Nadia Zuodar. The fragrance features resins, hyacinth, gardenia and hyrax.
Fragrance Notes




Main Notes According to Your Votes

2

2

1

1
Japanese Spring Fragrance Reviews
Nadia z is one of the people that respects people and the environment. and these are only samples of professional diligence that any fragrance is worthy of attention. some of the samples you sent me confirm what you write. first of all the quality and also smell the love for what you do. worth trying because such perfumers must be at high level.
Oct
20
2016
Longevity
drag slider to vote
User votes

| | | |
| --- | --- | --- |
| poor | 0 | |
| weak | 0 | |
| moderate | 0 | |
| long lasting | 1 | |
| very long lasting | 0 | |
Sillage
drag slider to vote
User votes

| | | |
| --- | --- | --- |
| soft | 1 | |
| moderate | 0 | |
| heavy | 0 | |
| enormous | 0 | |