Designers » N-Q » NadiaZ Floral Fruity Gourmand « Groups
https://www.fragrantica.com/perfume/NadiaZ/Fleur-de-Loukoum-Night-39907.html
Fleur de Loukoum Night NadiaZ for women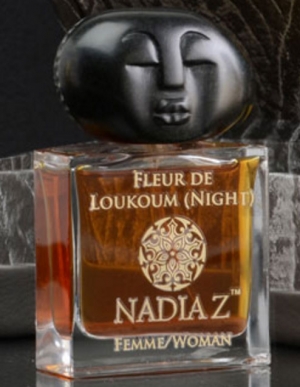 I have it: 1 I want it: 4
A candylike, powerful and passionate composition with an explosion of Red Berries aromas, such as Raspberry, Buchu and the Australian exclusive Strawberry Gum and the caramelized undertone of the Namibian Omumgorwa Resin. Its passionate and seductive heart of jasmine is rendered even more vibrant by the pheromonal Hyraceum hint.
Fleur de Loukoum Night by Nadia Z is a Floral Fruity Gourmand fragrance for women. The nose behind this fragrance is Nadia Zuodar. The fragrance features raspberry, buchu or agathosma, strawberry, resins, jasmine and hyrax.
Perfume rating: 5.00 out of 5 with 3 votes.
Fragrance Notes