Designers » N-Q » NadiaZ Oriental Vanilla « Groups
https://www.fragrantica.com/perfume/NadiaZ/Espiritu-Pirata-39910.html
Espiritu Pirata NadiaZ for women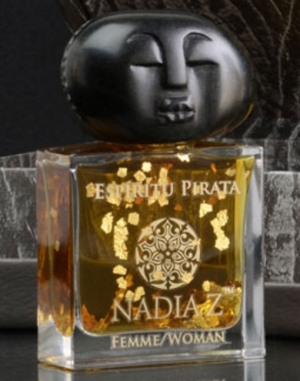 I have it: 2 I want it: 8
The caramelized sweetness of Martinique Rum, Vanilla, Cocoa, Honey, Sandalwood, Beeswax and Tonka Bean is magnified by Orange Blossom, Mimosa and Patchouli, culminating in sensory delights instilled by Ylang Ylang, Carnation and Lotus. The aroma is uplifted by an unexpected creamy touch from the Australian Massoia Tree (except in the US version), and a hint of freshly cut Berries.
Espiritu Pirata by Nadia Z is a Oriental Vanilla fragrance for women. The nose behind this fragrance is Nadia Zuodar. The fragrance features rum, vanilla, cacao pod, honey, sandalwood, beeswax, tonka bean, orange blossom, mimosa, patchouli, ylang-ylang, carnation, lotus, massoia and wild berries.
Perfume rating: 5.00 out of 5 with 4 votes.
Fragrance Notes















Main Notes According to Your Votes
If you're familiar with this fragrance, use the tools on the perfume pyramid to select the most prominent notes.
Espiritu Pirata Fragrance Reviews
This perfume belongs, according to its website, to the "Woodland Ecosystem". It is an inspiring perfume, the kind of perfume that makes you travel, geographically, and in time. It is a very lasting sweet perfume. It truly takes me to a forgotten pirate ship or an imaginary museum where all I can see is old maps, leather objects, wood chests just opened, rum bottles with the sweet smell of sugar cane. It is warm and spicy, but it is also a happy perfume as if suddenly I was again very young girl enjoying sea-sailing adventures tales far away in time. The first notes make me discover a very sweet rum, that after some seconds let other notes appear, like ylang-ylang and orange blossom. There is a constant sweet scent added by blackcurrant, I love this note! Then vanilla starts its own entrance, sandalwood, and other notes that are spicy, including oils and resins that I had not smelled before, probably ximenia and pequi.
This is the kind of perfume that I enjoy wearing in the afternoon, evening, and night. Especially in a dull, rainy weather. It brings joy and spice and I was complimented several times while wearing it. I will wear on Christmas's evening while relaxing with friends and family. It's a dose of exhilaration that is very very welcome!
Dec
14
Longevity
drag slider to vote
User votes

| | | |
| --- | --- | --- |
| poor | 0 | |
| weak | 0 | |
| moderate | 0 | |
| long lasting | 1 | |
| very long lasting | 0 | |
Sillage
drag slider to vote
User votes

| | | |
| --- | --- | --- |
| soft | 0 | |
| moderate | 1 | |
| heavy | 0 | |
| enormous | 0 | |