Designers » N-Q » NadiaZ Oriental Vanilla « Groups
https://www.fragrantica.com/perfume/NadiaZ/Espiritu-Pirata-39909.html
Espiritu Pirata NadiaZ for men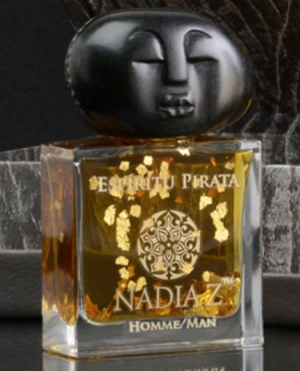 I want it: 7
The caramelized sweetness of Martinique Rum, Vanilla, Cocoa, Honey, Beeswax, Muhuhu, Sandalwood and Tonka Bean is magnified by Mimosa, Patchouli and Mushrooms, culminating in sensory delights instilled by Lotus and Carnation. The aroma is uplifted by an unexpected creamy touch from the Australian Massoia Tree (except in the US version), while freshly cut Berries, Opoponax and Spices sparkle in the undertones.
Espiritu Pirata by Nadia Z is a Oriental Vanilla fragrance for men. The nose behind this fragrance is Nadia Zuodar. The fragrance features rum, vanilla, cacao pod, honey, beeswax, muhuhu, sandalwood, tonka bean, mimosa, patchouli, lotus, carnation, massoia, berry fruits, opoponax and spices.
Perfume rating: 4.75 out of 5 with 6 votes.
Fragrance Notes
















Espiritu Pirata Fragrance Reviews
This stuff (like everything by NadiaZ) is very difficult to decipher but let's just say I get an unusual form of woodiness, dried up rum and a carnation/patchouli touch that gives an outdated cologne thing (like Aramis JHS) way in the background. The overall blend has a feeling of 'where have you been' as opposed to 'what are you wearing'. In general, I find it good; no extreme response here.
Mar
29
2017
Espiritua Pirata is probably one of the strangest gourmands I've ever smelled, but by far one of my all time favorites.
It smells very aromatic there's quite a lot going on in this scent, there's the gourmand nuances like honey, vanilla, cocoa, and tonka bean, but there are also some floral and spices as well, it's quite a nose full to decrypt this scent but it's very beautiful nonetheless.
If you read my other reviews on this house I like to talk a lot about the texture of their fragrances, they have quite a unique feel to them and this one is no exception. This also has the thick almost syrupy quality as most the other Nadia Z fragrances, which in this case really brings out the gourmand appeal of the scent, creating a more authentic gourmand experience. Honey doesn't just smell like honey, it feels like it too.
This fragrance was said to be inspired by the spice trade era and the scent is suppose to reminisce the smell of those spices, and I can definitely agree on that. The spices are very exotic smelling, it's like you're standing on the port where the spices where delivered, while the breeze carries the aroma of different spices around the air, and as you walk around you contently get whiffs of delicious, exotic spices. It's simply a very wonderful experience.
On to performance this perform quite well, it last a good 8-9 hours off my skin in cold weather, so I do expect that it will last longer in warmer weather. Projection is good for about 1-2 hours before it starts to project more softly. Overall, happy with performance, could be better but this last all day long so I can't really complain.
In conclusion, if you're into gourmands and spices this is one fragrance that you must get a sample of. I was a unique experience for me, a very phenomenal experience, and I believe it'd be the same for you as well.
Thanks for reading! Have a great day guys!
Nov
10
2016