Designers » N-Q » NadiaZ Floral « Groups
https://www.fragrantica.com/perfume/NadiaZ/Celestial-Violet-Man-39892.html
Celestial Violet Man NadiaZ for men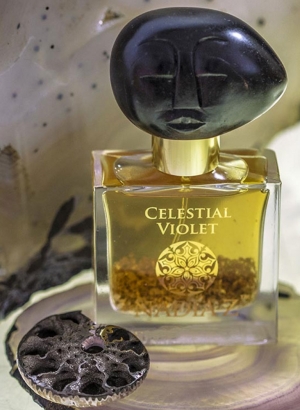 I want it: 6
An ethereal nature drawn from extremely rare Namibian Omumbungu Resin, the narcotic emanations of Hyacinth sweetened by a romantic touch of Violet. The pheromonal Hyraceum and Red Fruits-scented African Buchu with a hint of Australian Strawberry Gum make foe an even more vibrant composition.
Celestial Violet Man by Nadia Z is a Floral fragrance for men. The nose behind this fragrance is Nadia Zuodar. The fragrance features resins, violet, hyacinth, hyrax, buchu or agathosma and strawberry.
Perfume rating: 5.00 out of 5 with 3 votes.
Fragrance Notes