Designers » N-Q » NadiaZ Floral Woody Musk « Groups
https://www.fragrantica.com/perfume/NadiaZ/Camino-de-Azahar-Oro-39903.html
Camino de Azahar Oro NadiaZ for women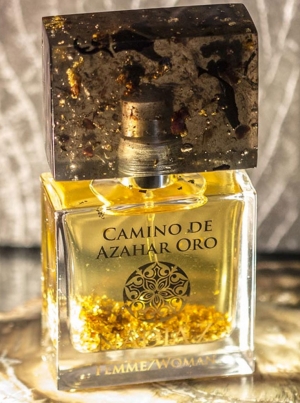 I have it: 1 I want it: 6
A very powerful and resplendant composition with an explosion of captivating sweet flowers such as Orange Blossom (Neroli), Lily, Champaca and Ylang Ylang melted in a caramelized heart of precious Namibian Omumbiri and Omomgorwa Resins, African Yangu, Cape Verbena (Lippia Jivanica), Honey and Vanilla. The exuberant tropical fruits and nuts from the Amazon, Andiroba, Sapote harmoniously toned down by Wild Mushrooms, and Precious Woods in a pure symphony.
Camino de Azahar Oro by Nadia Z is a Floral Woody Musk fragrance for women. The nose behind this fragrance is Nadia Zuodar. The fragrance features neroli, champaca, lily, ylang-ylang, resins, chestnut, lemon verbena, honey, vanilla, exotic fruits, persimmon, mahogany and precious woods.
Perfume rating: 4.00 out of 5 with 2 votes.
Fragrance Notes













Main Notes According to Your Votes

3

3
2

2

2

2
1

1

1

1
Longevity
drag slider to vote
User votes

| | | |
| --- | --- | --- |
| poor | 0 | |
| weak | 0 | |
| moderate | 0 | |
| long lasting | 1 | |
| very long lasting | 0 | |
Sillage
drag slider to vote
User votes

| | | |
| --- | --- | --- |
| soft | 1 | |
| moderate | 0 | |
| heavy | 0 | |
| enormous | 0 | |