Designers » N-Q » NadiaZ Floral Fruity Gourmand « Groups
https://www.fragrantica.com/perfume/NadiaZ/Camino-de-Azahar-39896.html
Camino de Azahar NadiaZ for women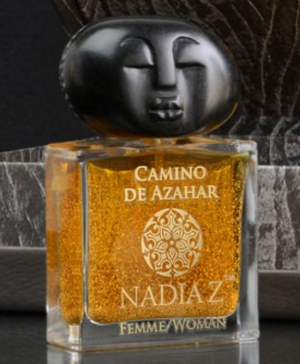 I want it: 3
A very powerful and passionate composition with an explosion of citrus, such as Orange Blossom, Black Iranian Lemons, Bergamot and vivifying fragrant flowers and leaves, such as the African Cape Verbena, Longonza, and Tagete. Its seductive, ultra-feminine and almost powdery heart emanates from Ylang Ylang, Honey, Sandalwood, and other indigenous oils, while Rooibos Yangu, wild mushrooms and Damascus Rose exude tender undertones.
Camino de Azahar by Nadia Z is a Floral Fruity Gourmand fragrance for women. The nose behind this fragrance is Nadia Zuodar. The fragrance features orange blossom, bergamot, lemon verbena, tagetes, ylang-ylang, honey, sandalwood, rooibos tea, damask rose and cape chestnut.
Fragrance Notes










Main Notes According to Your Votes
If you're familiar with this fragrance, use the tools on the perfume pyramid to select the most prominent notes.
Longevity
drag slider to vote
User votes

| | | |
| --- | --- | --- |
| poor | 0 | |
| weak | 0 | |
| moderate | 0 | |
| long lasting | 0 | |
| very long lasting | 0 | |
Sillage
drag slider to vote
User votes
soft
0
moderate
1
heavy
0
enormous
0