https://www.fragrantica.com/perfume/NadiaZ/Anji-Bamboo-Mist-39887.html
Designers » N-Q » NadiaZ Floral Green « Groups
Anji Bamboo Mist NadiaZ for women and men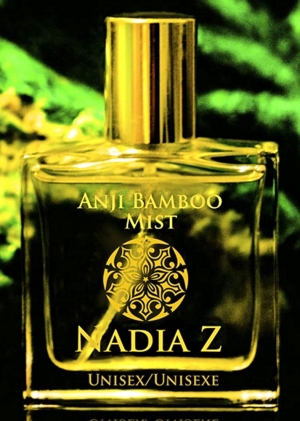 Total people voted: 5
I want it: 4
The magic of imagining a Bamboo Forest through the unexpected floral, green and fruity accords of intense flower such as the magnificent Chinese Aglaia, the exotic Australian Boronia and the enigmatic Tuberose. Spirituality, complexity and depth emanate from Palo Santo, Coffee Flower, Wild Mushrooms and Precious Woods in an evanescent fragrance.
Anji Bamboo Mist by Nadia Z is a Floral Green fragrance for women and men. The nose behind this fragrance is Nadia Zuodar. The fragrance features floral notes, fruity notes, green notes, aglaia, tuberose, boronia, coffee blossom and precious woods.
Perfume rating: 4.33 out of 5 with 5 votes.
Fragrance Notes








Main Notes According to Your Votes
If you're familiar with this fragrance, use the tools on the perfume pyramid to select the most prominent notes.
Anji Bamboo Mist Fragrance Reviews
nardius:

Super floral, green/leafy and a bit spicy. I tend not to go for florals so I can't be much more specific than that. Like everything else from NadiaZ, this has an earthiness at the base that is always detectable, but more noticeable the closer you get.
Mar
30
2017
tibetano:

Anji Bamboo overflows live and intensity. A green splendor that transport you to a Bamboo forest after the rain. Real, pure and free.
Longevity
drag slider to vote
User votes

| | | |
| --- | --- | --- |
| poor | 0 | |
| weak | 0 | |
| moderate | 0 | |
| long lasting | 0 | |
| very long lasting | 1 | |
Sillage
drag slider to vote
User votes

| | | |
| --- | --- | --- |
| soft | 0 | |
| moderate | 0 | |
| heavy | 1 | |
| enormous | 0 | |